* * * * * A Gift of Wings * * * * *

It is the mission of the Fred Dolan Art Academy to give wings to young Bronx artists. We do this by providing the finest professional art instruction,
while guiding our students in the building of the portfolios they'll need
for college acceptance.
This happens in a warm and pressure-free environment
where young artists gather every Saturday
and work together toward the realization of their dreams.


There are no academic requirements at the Dolan Academy,
and no minimum grades are needed for acceptance.

We only ask two things of our students:
That they attend classes regularly,
and that they work steadily while with us.


Our students are highly motivated people who've chosen
to spend their Saturdays working with us on their art.
Once they realize that high GPA's and outstanding portfolios
can lead to college scholarships,
almost all of them become academic achievers.


Since our genesis in 2006,
thirty-eight students have graduated from the Fred Dolan Art Academy.
Of those, thirty-five have gone on to college with scholarships.


Today, eighteen Dolan Academy graduates
are attending colleges around the country,
majoring in such diverse subjects as toy design, art history,
computer graphics, architecture, psychology, animation,
creative writing, painting, theatre, and finance.


Remarkably, all this has been achieved
with an annual budget of just $70,000 . . . $1,177 per student!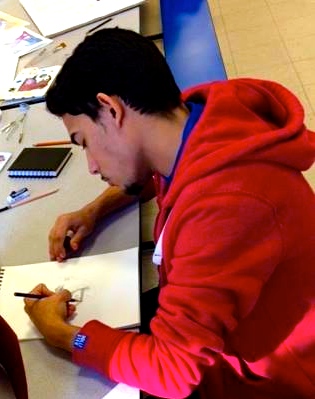 Its as if we've opened a window,
where our students hadn't known a window existed.
. . . and as they gaze through it,
they look out on a world of possibilities
they once thought were unreachable.

Now, as they stand before the window,
feasting their eyes on the treasures glistening there before them
. . . they begin to realize that with hard work and determination,
this place of miracles can be theirs!




"OUR NAMESAKE: MY DEAR FRIEND FRED"
Neil Waldman

When I think of Fred Dolan, the remarkable man our academy is named for,
I'm reminded of a shooting star, exploding across the evening sky,
. . . only to vanish a moment later
beyond the peaks that line the horizon.

Fred was the most innovative educator I'd ever known,
a larger than life character who waltzed through his days
bedecked in polka-dotted bow ties, zoot suits, and spats.
With the energy of ten men, rooms seemed to change
the moment Fred stepped into them.

As the new principal of a failing school
in a crime ridden section of the Bronx,
Fred was responsible for the lives of 1,500 students.
By the time his tenure ended, he had created a true "Community School,"
a sanctuary that transformed an entire neighborhood.


When I asked Fred how he'd achieved this,
he took hold of my arm, and walked me
down the brightly-decorated corridors of his school,
visiting classroom after classroom.

"The secret to our success," Fred explained, "lies in the arts.
Artistic expression gives kids a creative outlet -
a way to release their tensions, worries and fears.
When children are encouraged to share their feelings
through painting, music, acting or poetry, they feel valued
. . . And once that happens, the doors to academic success begin to open."

He went on to explain that many of his students
came from new immigrant families who didn't speak English at home.
With that in mind, he designed a curriculum that utilized music and art
as bridges that helped usher his students into their new community.


Fred brought many creative programs into his school:
Healthy breakfasts for students and their families,
a theatre program that culminated with a spectacular musical production every spring, ESL and job training seminars for parents,
and a special week when he'd invite authors and illustrators
to discuss their books with his students.
I was one of the illustrators fortunate enough to be chosen.
But then, at the age of 52, Fred died unexpectedly.

A year passed.

I was lost in a night of endless dreams,
floating aimlessly past row after row of unlit lamp posts,
when the vibrating sounds of my cell woke me.
I forced my eyelids open, yawned, and pressed the "Phone" button.

"Good morning, Neil."
It was Fred's wife Monika.
"I hope I didn't wake you."
I rubbed my eyes.
"Nice to hear your voice."
"Listen, Neil. There are six amazing youngsters in my school this year.
They're lovers of art - kids who draw and paint every chance they get.
But they've never met a real-live artist before
. . . and I was wondering if you'd be willing to come
and spend a little time with them?"

Two words shot up from the pit of my stomach.
"No problem!"

"You know, Fred's looking down on us."
I could feel Monika smiling through the phone.
"So when can you come?" she asked.
"How's Thursday at ten?"
"Perfect."


Before I knew it, it was Thursday morning.

After filling a box with miniature pumpkins, sketchpads and pencils,
I drove south on the Bronx River Parkway.
Twenty minutes later, the green hills of Westchester vanished,
replaced by tenement houses, neon storefronts, and factories.
I parked my car, and entered the lobby of a brick school building
where Monika stood waiting.
She led me into the art room,
and introduced me to six wide-eyed teenagers.

"This is Neil Waldman," she told them,
"the author and illustrator whose books we've been studying."
I looked into their bashful faces.
"Good morning," I began.
"Miss Monika tells me that you're all lovers of art."
All six smiled and nodded.
"Well, I've got an art lesson for you."
I handed each of them a miniature pumpkin,
two pencils and a sketchpad.
"I'd like you to spend the next hour drawing these pumpkins.
It doesn't matter if you finish one drawing or ten.
What I'd like you to focus on is creating a realistic drawing
that looks as much like a photograph as possible.
Study the pumpkins carefully.
Check out every bump and crevice.
Try to include all the details in your drawing."

In a flash, they all lowered their heads,
positioned the pumpkins on their desks,
and started sketching.

I circulated among them, watching as they worked.
Every now and then, one of them would ask a question,
but for the most part they spent their time in rapt concentration.
At hour's end, I announced that the period was over
. . . and they looked up for the first time.

"Listen guys," I said, "I'm really impressed with the work you just did.
While I was watching you, I started wondering
. . . "How'd you like to study art in college after high school?"
They answered in one voice.
"We can't go to college."
"Why not?" I asked.
"It costs money to go to college."
Just then, a thought came to me.
"Since you all come from families without a lot of money,
you just might be able to go to college.
Anyone heard of a scholarship?"

They all shrugged.
"Listen guys," I continued,
"if you keep working with me on your art, and get your grades up,
you just might be able to go to art college for free.
In college, you'll be trained to become professional artists,
so you can spend your lives doing what you love most,
and be paid for it!
How about meeting again next Saturday?"
They all nodded enthusiastically.
Then I took in a deep breath, and asked the dreaded question.
"How are your grades in school?"
They looked at each other, shrugged, and slowly answered in turn.
"73 . . . 74 . . . 66 . . . 61 . . . 79."

I jotted the numbers down.
After a bit of adding and subtracting,
I calculated that their average grade was 72.
Now I was shaking my head.
"Not good enough guys," I informed them.
"If you want to go to college, you'll have to get your grades up over 80
. . . 85 would be even better."
With that, we said goodbye, and began meeting on Saturdays.

I didn't realize it at the time,
but all six had taken my words to heart.


Several weeks later, they all marched into the classroom smiling.
Walking up to my desk, they all handed me their latest report cards.
A moment later, I was the one who was smiling!
In one marking period, their averages had gone
from 72 to 86!

Then I got to work.
Along with my dear friend, Marc Broxmeyer,
a Children's Aid Society board member,
we met with Phil Coltoff and Pete Moses,
the two highest ranking officers of CAS.
After explaining our ideas,
they agreed to start funding our new school.


I hired two acclaimed illustrators of children's books,
and two career art educators.
Within three months, we had accepted forty students into our new school.

I decided to name the Academy
after my dear friend Fred.
I called it . . . "The Fred Dolan Art Academy"





"OUR BELOVED KALIMAH"
Neil Waldman

Kalimah Samiullah was a remarkable educator.
I had observed her over many years,
teaching art at a nursery school in Brooklyn.

I was always impressed
. . . for Kalimah was a creative, compassionate, and intuitive teacher.
When it came time to select faculty members
for the newborn Fred Dolan Art Academy,
I offered Kalimah a job.
She accepted immediately . . . and Kalimah was the first teacher I hired.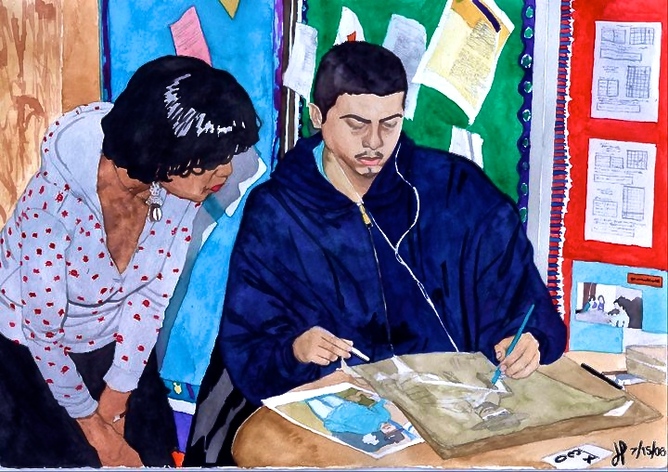 ---
During her years at the Academy,
Kalimah's soft sensitive ways enriched the lives of many an aspiring young artist.
She always seemed to sense the special gifts hidden within a child . . . and once recognized, she'd begin patiently working her magic . . .
acknowledging, encouraging, nurturing . . .
and many of the Academy's young artists began to blossom
under her watchful eye.


One of the students that Kalimah touched most deeply
was a ninth grader named Pauline Lewis.

"There's something special in that girl's eyes!" Kalimah exclaimed.
"She's got that special sparkle
. . . the sparkle of understanding and intelligence."

Kalimah began working closely with Pauline.

After several months, she shared an observation:
"Whenever I introduce a new concept,
Pauline is always the first to grasp it.
Last month, it was about the use of earth tones in landscape painting.
Before that, it was about the importance of journaling
as a writer's tool.
"As soon as that class ended,
Pauline came up to me, asking for a journal.
She took it home with her, and started writing.
"She's been writing ever since!
"Last Saturday, she shared one of her entries with me.
And let me tell you . . . she's not just a gifted artist.
Pauline is an exceptional writer!"


Kalimah stopped for a moment, and then she spoke again.
"You might think I'm getting ahead of myself, Neil
. . . but I believe that Pauline is Ivy League material."

During Pauline's second year at the Academy,
Kalimah read an article about a weekend tour of Ivy League colleges.

The cost was two hundred dollars.

At the time, Kalimah was supporting a bed-ridden husband recovering
from heart surgery, and two grown children.
They were living in a small apartment in the Crown Heights section of Brooklyn, surviving on the meager salary of a nursery school teacher!
But despite all this,
Kalimah decided to take it upon herself to reserve a place
on the tour for Pauline . . . and she wrote a check for two hundred dollars.

Three weeks later,
Pauline boarded a bus for New England.
She spent that weekend
touring the campuses of Harvard, Yale, and M.I.T.

Paulne returned to the Academy on the following Saturday
. . . and she was beaming!
Her grades had always been excellent
. . . but after the tour, they started rising even higher.
By the beginning of her senior year,
Pauline's GPA had risen to 98.5%!

That spring, Pauline was accepted at Dartmouth College
with a full scholarship!

Later that year, Kalimah began feeling weak.
She decided to take some time off.
She remained in bed for several weeks.
When the weakness persisted,
Kalimah made an appointment to see a doctor.

I phoned her later that day.
As always, Kalimah was filled with optimism.
"They've discovered that I have stage four colon cancer," she explained.
"But not to worry. My doctor is a good man.
He's told me that he's dealt with similar situations before,
and his prognosis is quite positive.
He's confidant that I'll be able to return to work in the fall."


But September came and went,
and Kalimah was still bed ridden.
She remained in bed throughout that school year.

In June, she managed to attend the Academy's "End-of-the-Year" celebration.
The teachers all told her that it was wonderful to see her again,
but we could all see how frail she'd become.


Kalimah died a few months later.

The teachers and students of the Fred Dolan Art Academy
will never forget Kalimah.

Her gentle gaze and guiding spirit will always be a blessing
. . . and truly a miracle!