"My World" - illustration by Kevin Christopher, a 9th grader at the Dolan Academy
* * * * * CREATING SANCTUARY * * * * *
T
he Fred Dolan Art Academy is named after a legendary principal who took charge of a failing school in a drug-infested section of the Bronx and turned it into a sanctuary.
Founded several months after Fred Dolan's untimely death, the academy opened its doors in September, 2006. Conceived by Neil Waldman, a dear friend of Fred Dolan's, and Marc Broxmeyer, an Executive Board member of The Children's Aid Society, the two ran a launching event at the Theatre Arts Production Company School. Forty-five students attended, and all were accepted into the academy. Four faculty members were soon hired - two career art educators from NYC Public Schools, and two noted illustrators of children's books. Over the next few years, three more instructors were added.
Every faculty member was carefully chosen. The career educators would work as art instructors and nurturers of the academy's students. The illustrators would offer technical training at levels not often found outside college. With their wide spectrum of work experience, the faculty of the Fred Dolan Art Academy would be unique.
* * * * FACULTY MEMBERS * * * *
Robert Casilla
(BFA in illustration, the School of Visual Arts -
www.robertcasilla.com
) the noted illustrator of more than thirty multi-ethnic children's books, Robert teaches Drawing and Painting Fundamentals to the 9th and 10th graders of the academy.
Ying Hwa Hu and Cornelius Van Wright
(BFA in illustration from the School of Visual Arts -
www.pencilmoonstudio.com
) are a renowned husband and wife team, who have illustrated of more than 50 award-winning children's books, Cornelius works as the academy's Portfolio Expert, while Ying Hwa works closely with our seniors, selecting colleges they should apply to, and seeking out scholarships.
Christina Pappas-Russo
(MA in Early Childhood Education from Mercy College - BA in Business Administration from Iona College) is a career art teacher at PS 306 in the Bronx. Chrissy works as the academy's Business Manager. In charge of everything from art supply purchases to Metro Card distribution, she is the nuts and bolts of the academy.
Aurekis Jaar
(MA in Art Education from Teacher's College at Columbia University - BA in Fine Arts and Art History from Adelphi University) is a career middle school visual arts teacher at MS331 in the Bronx. Aurekis is the creative force behind the academy's Middle School Art Program.
A
fter extensive discussions, it was decided that our first priority would be the creation of a "Sanctuary" permeated with safety, acceptance, and love.
Using Fred Dolan's vision as our inspiration, and his school as our template, we agreed that the academy's mission would be to build a "Sacred Space." This was critical, as many of our students came from unfriendly, violent neighborhoods. Some had grown up in the ghettos of the south Bronx, afraid to leave their apartments after dark. Two were living in homeless shelters. One came from a family of drug dealers. Another had witnessed the death of his drug-addicted father.
It was also decided that if some of our students didn't go on to college, they'd still be welcome within our doors. As Dolan Academy graduates, they were lifetime members of the sanctuary we'd create.
During those discussions, we decided that our next priority would be the development of our students' artistic skills. Next would be the building of their portfolios. The technical expertise of the academy's illustrators would serve as a springboard for our student's artistic growth.
The academy's mission would be based on three concepts:
1) Talent is overrated. Although God-given talent gives those who have it a distinct advantage, it's useless without passion, determination, and commitment.
As in every endeavor, artistic development rests on two components
. . . tenacity and hard work.
2) Expectations. Three things would be expected of our students: they must attend class every Saturday, they must work diligently while with us, and they must cause no discipline problems.
3)
No child will be turned away.
As we were determined to become an integral part of the community of young Bronx artists, we
decided to accept every youngster who entered our doors. There would be no academic requirements, and no application process. We'd simply ask that every student agee to fulfill the three stated expectations. We were convinced that once youngsters gave us their word, they'd begin walking the path that leads to artistic growth, academic achievement, and college acceptance.
* * * * BECOMING AN INDEPENDENT NOT-FOR-PROFIT * * * * D
uring the Academy's first seven years, most of our funding was provided by The Children's Aid Society and the DreamYard Project. But after funding cuts from both organizations, we decided that if the Academy was to continue to grow and prosper, we'd have to become an independent not-for-profit foundation, and the captains of our own ship. And so, in September, 2013, an application was filed with the IRS, and a Board of Trustees was created.
* * * * THE DOLAN ACADEMY BOARD OF TRUSTEES * * * *
Neil Waldman - www.neilwaldman.com - President
Author and illustrator of more than fifty children's books, Neil is the winner of The Christopher Award, The National Jewish Book Award, and many others. Chosen to represent the U.S. in an international poster competition at the U. N., Neil was awarded the Gold Medal for his poster commemorating "The International Year of Peace." He teaches watercolor painting at the WCC Center for the Arts, has designed postage stamps for thirteen nations, and is the founder of the Dolan Academy. With the support of his wife, Kathleen Clark Moses, Neil continues to direct the work of the teachers and students of the Academy.
C. Warren "Pete" Moses - Treasurer
After joining The Children's Aid Society, Pete began working as the Director of Teen Programs. He then served as CAS's Associate Executive Director, Executive Director, and CEO. Expanding CAS's programs for youth, Pete initiated many innovative programs, including the "Next Generation Teen Center" in the south Bronx. Pete serves on the Board of the Human Services Council, and is the co-chair of the NYS Commission on Disconnected Youth. He has received many honors, including the Foster Parent Award, the Ellis Island Medal of Honor, and the Charles Loring Brace Award. A longtime supporter of the Dolan Academy, he was instrumental in drafting the initial agreement between CAS and the Academy.
Meredith Phelps Rugg - Secretary
Spurred by her grandmother, acclaimed artist Edith Catlin Phelps, Meredith majored in art history, and studied flower arranging in London. While living in Hong Kong, she began studying Asian Art, and today works as a botanical watercolorist and Chinese brush painter. Meredith has spent her life giving back to others, serving for twenty years on the CAS Board of Trustees, chaired the CAS Arts Committee, and curated the annual CAS children's art exhibit at the National Arts Club. She has worked with Neil Waldman in bringing art to children since 2000. A tireless supporter of the Dolan Academy, Meredith and her husband Peter delight in the art produced by their children and grandchildren.
William Johnson - Trustee
An educational consultant for the Highlights Foundation for Children, Bill's work as a language arts expert has been featured in the NYTimes and NBC's Today Show. He continues to work as author, poet, and writing specialist, conducting workshops for teachers and children to enhance their love of writing. He also serves on the Board of Trustees of the Highlights Foundation for Children. As longtime supporters of the Dolan Academy, Bill and his wife Beth continue to be involved in many organizations dedicated to the enrichment of the lives of children.
Kathleen Clark Moses - Trustee
A graduate of Columbia University, Kathy worked as the director of "TCL," one of New York State's premier Asserted Community Treatment teams. This project provides services to the seriously mentally ill, enabling them to live fully in their communities. Kathy has also served as lecturer, and adjunct professor at Columbia University. She was named "Social Worker of the Year" in Westchester County by the National Association of Social Workers, and is currently in private practice, providing psychotherapy to adolescents and adults.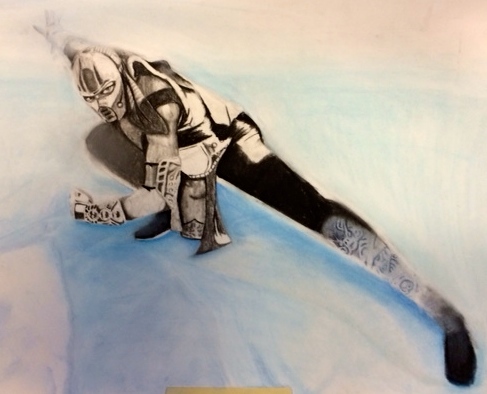 "Poetry in Motion" - pencil drawing by one of our young superstars - Sadarius Chisolm, a high school senior.