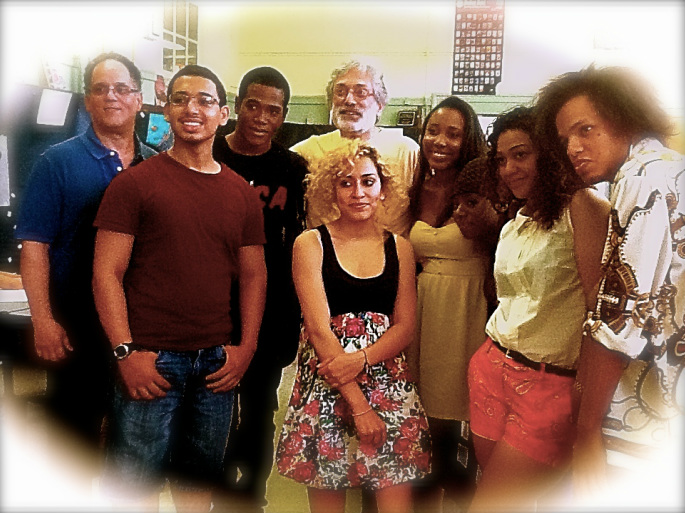 ---

* * * * * TO TOUCH A LIFE * * * * *

At the Fred Dolan Art Academy, we're in the business of touching
(and sometimes even transforming) the lives of young Bronx artists.


Their stories are as remarkable as they are touching.
Coming from a blue collar world, where the only college graduates they've ever met are their teachers, these remarkable youngsters come to us
because they love to draw and paint.
Once they discover that by graduating from college,
it'll be possible to spend their lives
doing the work they love most
. . . and be paid for it!


It is our mission to work with these young Bronx artists on Saturdays
in the building of the portfolios they'll need for college acceptance,
while encouraging them to raise their academic standing
from Monday to Friday.

After working with us, almost all of them become
highly successful students.



"Jonathan and Cheyenne"
Neil Waldman

Jonathan Paredes grew up in the homeless shelters of the south Bronx. Soft spoken and articulate, he was living with a brother, sister, and single mom who
always seemed to be mired in relationships with violent men.
During several conversations, Jonathan told me that he never felt safe at home.
"I'd hide in the bedroom while the screaming came crashing through the walls. Sometimes I felt like a prisoner in my own apartment."
I soon discovered that Jonathan was quite a gifted artist. During his first month at the Academy, he created a series of wonderful drawings in pen and ink, charcoal, and colored pencils. But when I introduced him to watercolors, he seemed lost.
From the outset, Jonathan struggled with the simplest of watercolor techniques. No matter how he tried, he just couldn't get the knack of it.
"Why keep fighting with watercolors?" I asked him. "Maybe they're just not right for you. You're amazing with pencils, markers, and pen and ink.
You don't have to be great at everything."
"Please excuse me," Jonathan shyly answered,
"but you don't understand what I'm struggling with."
"What do you mean?" I asked.
"It's really important that I master watercolors!"
"Why?" I asked.
"Because they're so hard for me!"


Cheyenne Julien was a gifted young artist who'd grown up in a lovely apartment in a tree-lined section of the north Bronx. Her family was strong and supportive.
"I'd never met a practicing artist," she told me after my first visit to her school.
"I was shy back then, so when you asked to take a look at my drawings,
I covered up my paper. But you assured me that you were there to help,
and when I showed you my work, you encouraged me.
To hear it from a real artist made me the happiest person on earth!"


Time passed.
Cheyenne and Jonathan were becoming good friends.
Spending hours together at her apartment, Jonathan was attracted to the warmth
and comfort he felt with her family.
During his most difficult days, Jonathan began sleeping over.
In time, he began to see Cheyenne's apartment as a safe haven.


Jonathan kept working on his watercolors
. . . and he slowly began to master the most basic techniques.
He continued to improve steadily, and after a year,
his watercolor paintings were beyond anything I ever expected!
By the fall of his senior year, Jonathan had completed a portfolio
of spectacular watercolor paintings.


We travelled to midtown Manhattan for an interview at F.I.T. that November.
After arriving, we were directed to a room where a hundred high school seniors and their parents sat waiting.
Fifteen minutes later, the seniors were escorted into an art studio.
I said goodbye to Jonathan, and wished him luck.
I paced the corridors for what seemed like hours.
Then Jonathan came walking into the lobby.


We'd just begun to leave,
when a committee member came running up to Jonathan,
saying, "See you in September!"


We left the building, got into my car, and began driving
through the bustling streets of Manhattan,
heading for the Bronx.
Suddenly, Jonathan realized what had just happened.
Eyes wide, he yelled out, "I can't believe it!
I can't believe it! I can't believe it!"

Later that week, I received a phone call from the committee chairman.
"In all my years," he told me, "I've never seen watercolors
on so high a level from a high school student!"

Two months later, Jonathan was awarded a full scholarship to F.I.T.
It included tuition, books and art supplies, but no room and board.
Considering the environment Jonathan had grown up in, I determined to raise the $10,000 he'd need to live in the dorms.


I started contacting Dolan Academy supporters.
One after another . . . people began making donations on Jonathan's behalf.
On the day before the deadline, I delivered a check for $10,000!


Unfortunately, the money only lasted for a year.
The economy had taken a downturn, and I wasn't able to raise the funds needed
for Jonathan's sophomore year.
When I explained the situation to him,
Jonathan answered with his usual grace and dignity.
"I'll be fine," he assured me.
"I truly appreciate everything you've done for me, Neil. But not to worry.
My father has promised to find me an apartment."


Everything began exactly as Jonathan had hoped it would.
In August, his father found him a studio apartment in the south Bronx.
But on the morning before classes were about to begin, I received this email:


Dear Neil,
Please excuse me.
If it's not an inconvenience, I could use a little help. I just received a notification from the landlord saying that my father hasn't paid this week's rent. He's threatening to throw me out onto the street if he isn't paid by eight o'clock tomorrow morning.
I'll understand if you aren't able to help.
If this is too much of a burden, please excuse me.
I'll be fine.
Yours truly,
Jonathan

I was on the phone in under a minute.
Calling all the donors I thought might help,
I got several offers, when an idea came to me.
Remembering how Cheyenne's family had provided a safe haven
for Jonathan during his most difficult days,
I decided to give them a call.
Cheyenne answered the phone.
"I have a favor to ask," I began.
"Jonathan is about to be thrown into the street by his landlord."
"Oh my God!" Cheyenne cried. "How can we help?"
"How would you feel about him moving into your apartment?"
"That'd be awesome!" she answered. "We all love Jonathan.
He's like a member of the family!"
"Would it be okay if I asked your mom how she feels about it?"
"Sure!" Cheyenne answered. "I'll get her."

A minute later, I was speaking with Cheyenne's mother.
"How'd you feel about Jonathan moving into your apartment?" I asked.
"Of course, we'll be happy to provide a home for him!"


Jonathan moved in that week.
I met Jonathan a few days later.
"How are things?" I asked him.
"The whole thing feels like a gift from God!" he answered.
"You know, this is the first peaceful home I've ever had!"


Jonathan is currently completing his senior year at F.I.T.
Cheyenne as a junior at the Rhode Island School of Design.
Below are samples of their artwork.




You can help our kids
by making a tax-deductible contribution.
Just press the "Donate" button below.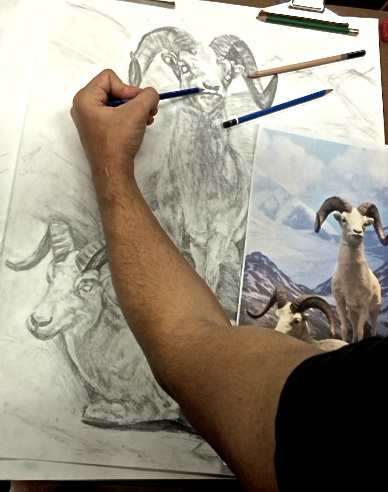 Jeremy Frias, a graduate of the Dolan Academy, now studying graphic design at Bronx Community College. In this photo, Jeremy is focusing on his drawing skills on a Saturday morning at the Academy. We encourage our graduates to join us whenever they can. They are exemplars, the living proof of what our middle and high school students hope to become.
A letter from a Dolan Academy graduate
Hello, My name is Anabelle Santiago and I attend the Fred Dolan Art Academy. I first heard about the program through my good friend Cheyenne Julien. At first I was skeptical because I knew it would involve a commitment to attend a program and develop a consistency. After I began attending, I realized how special and unique the art program was. It not only let me explore my artistic abilities. It also allowed me to be a part of a really precious community consisting of artists with successful careers who want to share their gifts and young students eager to learn from them and develop their own gifts. Its a slow and sometimes frustrating process honing technical and creative skills, but it is always amazing when we step back at the end of the year and realize that there has been substantial growth within the art we have made. The art directors at Fred Dolan are amazing artists and great teachers; they helped me to realize my potential and strengths within my artistic ability. I have gained a vast majority of my artistic knowledge and skills from attending Fred Dolan - I can say confidently that without Fred Dolan, I would not be anywhere near where I am today in my artistic journey. Fred Dolan's teacher staff are a supportive and talented group of individuals who are dedicated to their work. It's a good environment to be in as a young artist and it's so encouraging to have teachers who have real careers in artistic work - something that the majority of us never dreamed was a possibility. To be surrounded by successful artists and see their work is not only inspiring but motivational. A lot of students who are now in or have recently completed college after attending Fred Dolan make regular visits to the Academy, and I myself intend to visit and volunteer my time as much as possible when I'm older. Fred Dolan is a program I'm very happy to be a part of and proud to tell others I attend.
Postscript: Annabelle is now a sophomore, majoring in illustration at F.I.T.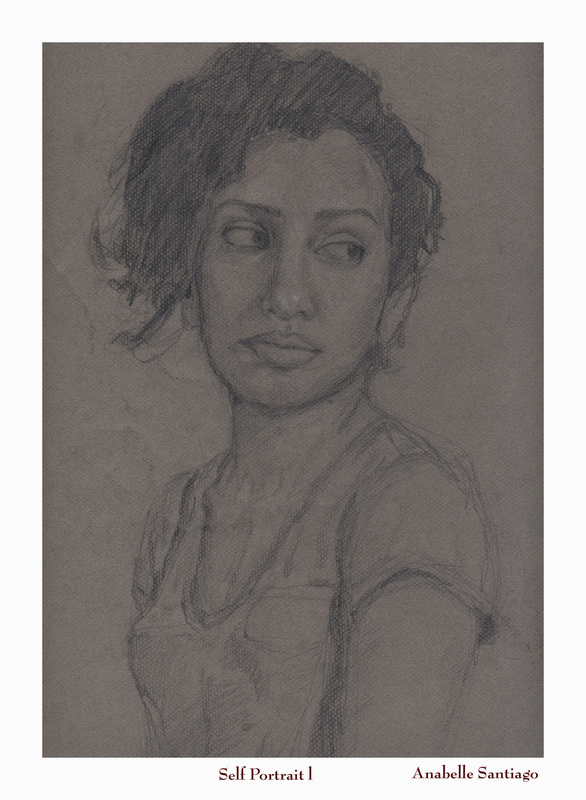 Pencil drawing by Anabelle Santiago, a rising star from the Dolan Academy